Home Page
Tempting Tidbits
Tempting tidbits to start a meal or to snack on anytime.
Nachos
Green chilis and real cheddar cheese melted over freshly cooked tortilla chips.
8.99
Half-order: 6.99
Super Nachos
A large plate of our regular nachos topped with taco meat with beans, black olives, sour cream and tomato.
11.99
Half-order 8.99
Add guacamole for $2.50
Potato Skins
Eight fried potato skins with assorted toppings: sour cream; bacon and Monterey Jack; chili and cheddar; guacamole and sour cream.
12.50
Half-order 8.50
Jumbo Spicy Clam Strips
These gems are thick and succulent! Trust us!
12.50
Onion Rings
Extra large slices of onions hand-dipped in tempura and fried to a golden brown. Yummy!
9.25
Half-order 7.25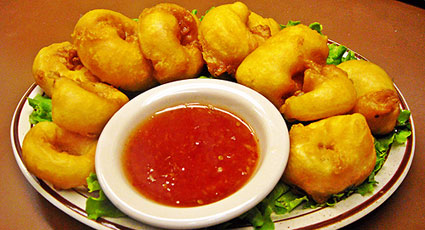 French Fried Vegies
a selection of fresh vegetables hand-dipped in tempura and fried to a golden brown.
12.50
Rocky Mountain Oysters
What can we say? A regional treat served with fries and cocktail sauce. NO BULL.
12.50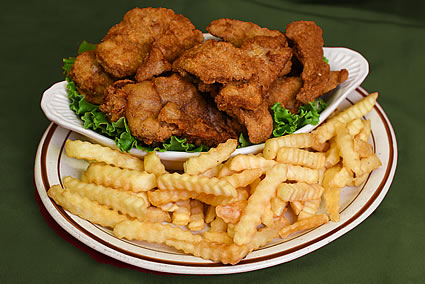 Boneless Buffalo Strips
Crispy fried boneless chicken hot and spicy. Comes with fries and bleu cheese dressing.
12.50
Combo Tidbit Platter
A combination plate featuring: potato skins, fried mushrooms, onion rings, and Rocky Mountain Oysters.
13.50
Fried Zucchini
Fresh zucchini medallions hand-battered and deep-fried. Served with a Thai sweet chili sauce.
9.25
Half-order 7.25
Fresh Veggies & Dip
A variety of seasonal fresh vegetables served with our housemade ranch dressing.
9.99
Half-order 7.99