Home Page
Dinners
Dinners are served all day, everyday.
Dinners are served with soup or salad and the choice of one of the following side items:
French fries, coleslaw, potato skins, mashed potatoes, or baked potato.
Eight Ounce Sirloin*
A flavorful half-pound USDA Choice sirloin steak grilled to your liking, topped off with a couple of our hand-battered onion rings.
18.50
Baked Salmon Fillet
An eight-ounce wild-caught salmon fillet pan-seared and baked with butter and lemon.
17.99
Canadian Cordon Bleu
Ten ounces of breaded chicken breast topped with Canadian bacon and Swiss cheese then covered with cream gravy.
17.99
half-order: 13.99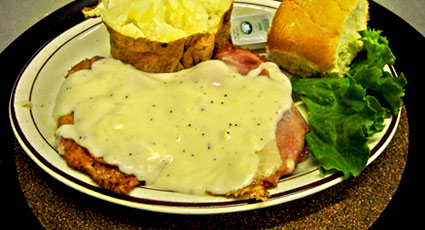 Chicken Continental
Ten-ounce chicken breast lightly breaded, sautéed and covered with broccoli, mushrooms and hollandaise sauce.
17.99
Half-order: 13.99
Lemon Cod
Tender fillet of Alaskan cod baked with lemon juice and butter. Served over rice instead of choice of potato.
15.75
Half-order: 11.75
Liver and Onions
Tender calves liver smothered with sautéed onions and bacon.
16.99
Half-order: 12.99
Coconut Shrimp
Jumbo shrimp fried in a coconut batter served with honey-mustard sauce.
18.99
Half-order 14.99
Cod Florentine
Our baked lemon cod served on a bed of crisp, fresh spinach topped with rice and blanketed by rich, creamy, hollandaise sauce. Choice of side item not included.
16.50
Half-order: 12.50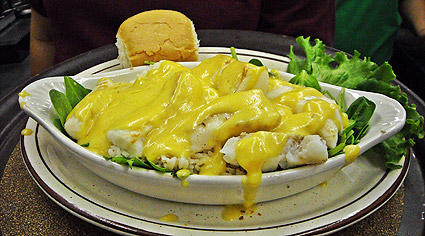 Deep Fried Shrimp
Four jumbo shrimp dipped in tempura and deep fried to a golden brown.
17.99
Half-order: 13.99
Teriyaki Chicken
Chicken breast marinated in teriyaki sauce served on a bed of rice with pineapple. Not served with choice of potato.
17.99
Half-order: 13.99
Lasagna
Homemade lasagna cooked in a rich meat sauce. Plenty of pasta, so no potato is served with this item.
13.99
Half-order: 10.99
Chicken Fried Steak
A half-pound portion of crispy fried steak smothered with cream gravy.
16.99
Half-order: 12.99
*These items are cooked to order. Consuming raw or undercooked meats, poultry, seafood, shellfish, or eggs may increase your risk of foodborne illness, especially if you have certain medical conditions.