Home Page
Just for Kids
Served with one of the following: French fries, cole slaw, potato skins, fruit, soup, or salad.
Cheese Nachos
Real cheddar cheese melted over freshly cooked tortilla chips.
4.99
Grilled Cheese Sandwich
Melted yellow American cheese between two slices of white or wheat bread.
4.99
Bite-sized Corn Dog Nuggets
Hot dog slices fried in a corn meal crust.
5.99
Chicken Strips
Three all white meat boneless chicken strips battered and deep-fried.
5.99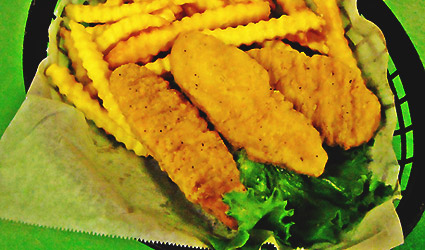 Cheese Quesadilla
Yellow American cheese melted between two flour tortillas and sliced into quarters.
4.99