Home Page
Croissants and Wraps
Served with one of the following: French fries, coleslaw, potato skins, mashed potatoes, soup, or salad.
Sweet Chili Chicken Wrap
Tender breast of chicken, grilled, sliced and topped with lettuce, tomato, cheddar and Thai sweet chili sauce.
12.99
Turkey Bacon Ranch Wrap
Turkey, bacon, sliced tomato, lettuce and ranch dressing rolled up in a tomato basil wrap.
12.99
Southwestern Vegie Wrap
A tomato basil wrap filled with fresh spinach, cucumbers, tomatoes, Monterey Jack and homemade jalapeño cream cheese.
11.99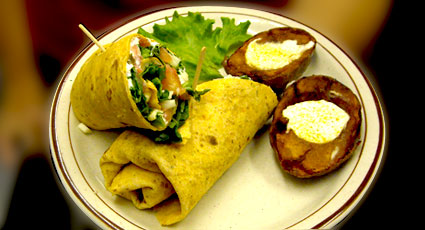 Cordon Bleu Croissant
Tender chicken strips, Canadian bacon, Swiss cheese and cream gravy on a croissant.
12.99
The Downtowner
Turkey, avocado, bacon, lettuce, Sour cream and tomato top this flaky croissant.
12.99
Hawaiian Croissant
Warmed ham, melted swiss cheese, sliced tomato and Thai sweet chili sauce.
11.99
Turkey Divan
Sliced turkey, cranberry sauce, and broccoli fill this croissant. Topped with hollandaise.
12.99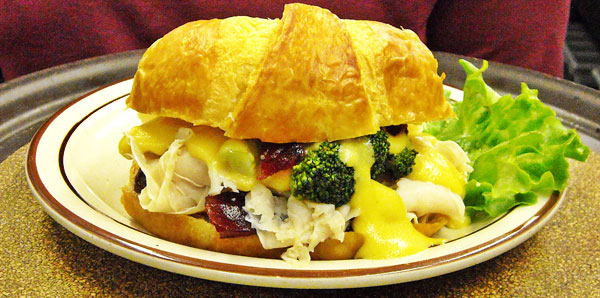 California Croissant
A BLT croissant dressed up with Monterrey Jack and avocado.
11.99