Home Page
Tempting Tidbits
Tempting tidbits to start a meal or to snack on anytime.
Nachos
Green chilis and real cheddar cheese melted over freshly cooked tortilla chips.
8.99
Half-order: 6.99
Super Nachos
A large plate of our regular nachos topped with taco meat with beans, black olives, sour cream and tomato.
12.99
Half-order 9.99
Add guacamole for $2.50
Potato Skins
Eight fried potato skins with assorted toppings: sour cream; bacon and Monterey Jack; chili and cheddar; guacamole and sour cream.
13.99
Half-order 8.99
Jalapenõ Poppers
Jalapenõ peppers filled 2ith cream cheese, breaded and fried.
Five pieces: 7.99
Ten pieces: 12.99
Onion Rings
Extra large slices of onions hand-dipped in tempura and fried to a golden brown. Yummy!
10.99
Half-order 8.49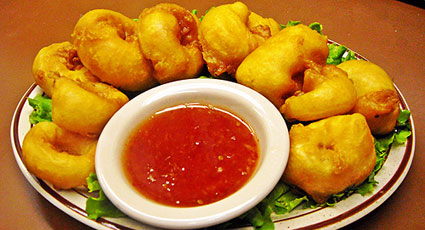 French Fried Vegies
Onion rings, green pepper rings, mushrooms, and zucchini hand-dipped in tempura and fried to a golden brown.
13.99
1/2 order: 8.99
Rocky Mountain Oysters
What can we say? A regional treat served with fries and cocktail sauce. NO BULL.
1/2 pound: 12.50
One Pound: 21.99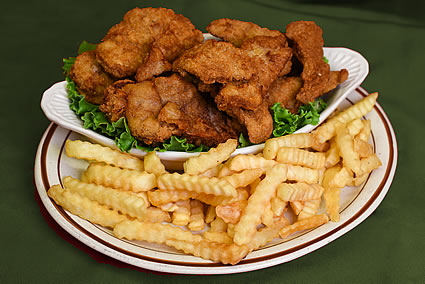 Boneless Buffalo Strips
Crispy fried boneless chicken hot and spicy. Comes with fries and bleu cheese dressing.
12.49
Combo Tidbit Platter
A combination plate featuring: potato skins, fried mushrooms, onion rings, and Rocky Mountain Oysters.
14.49
Fried Zucchini
Fresh zucchini medallions hand-battered and deep-fried. Served with a Thai sweet chili sauce.
10.99
Half-order 8.49
Fresh Veggies & Dip
A variety of seasonal fresh vegetables served with our housemade ranch dressing.
11.99
Half-order 7.99