Home Page
Burgers & Dogs
Served with one of the following: French fries, coleslaw, potato skins, mashed potatoes, soup, or salad.
Hamburger or Cheeseburger*
A 6-ounce portion of the finest ground beef charbroiled and served with lettuce, tomato, and onion.
12.99
Mushroom Swiss Burger*
A 6-ounce burger topped with sautéed mushrooms and Swiss cheese.
13.99
BBQ Ranch/Bacon/Cheddar Burger*
A 6-ounce burger charbroiled and topped with all of the above.
14.99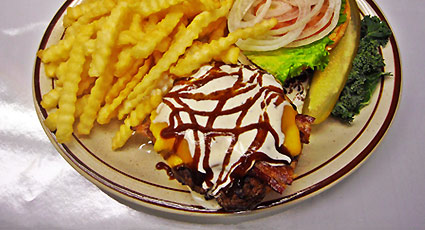 The Belly Buster*
A one pound hamburger that will feed one or more. Served with a mountain of fries.
22.99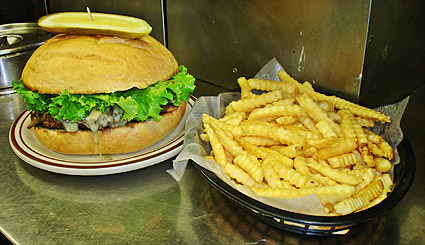 Jalapeño Cream Cheese Burger*
Our six-ounce burger topped with housemade jalapeño cream cheese.
13.99
Hot Dog
A quarter-pound all beef dog on a toasted hoagie roll.
8.99
Chili Cheese Dog
Our quarter-pound dog blanketed in beefy red chili and topped with diced onions and grated cheddar cheese.
11.99
*These items are cooked to order. Consuming raw or undercooked meats, poultry, seafood, shellfish, or eggs may increase your risk of foodborne illness, especially if you have certain medical conditions.