Home Page
Salads
Fresh greens with a variety of tasty toppings
Caesar Salad
Crisp romaine lettuce tossed in a classic Caesar dressing and covered in homemade croutons.
11.99
Add grilled chicken breast for 4.25
Cobb Salad
Grilled chicken breast, bleu cheese crumbles, crispy bacon, egg, and black olives.
14.99
Cajun Chicken Salad
A grilled chicken breast, seasoned with cajun spices piled on a fresh salad. Cheddar cheese, cucumbers, and black olives top this item.
14.99
Quiche and Salad
A generous slice of homemade quiche served with a garden salad. Ask your server for today's selection.
13.99
Fresh Spinach & Strawberry Salad
Crispy fresh spinach leaves covered with sliced strawberries and mushrooms, hard-boiled egg and croutons.
13.49
Add grilled chicken breast for 4.25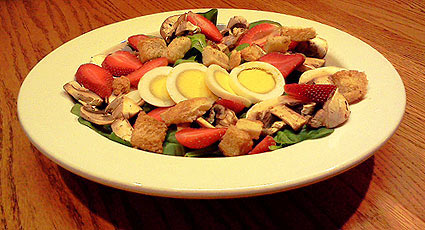 Buffalo Chicken Salad
Boneless spicy buffalo chicken strips, crumbled bleu cheese, mixed greens, black olives, and cucumber.
14.99
Fat Al's Chef Salad
Crisp salad topped with fresh ham, tom turkey, Monterrey Jack and sharp cheddar cheese. Black olives, mushrooms, egg and real bacon top this treat.
14.99
Soup & Salad
A fresh house salad served with a piping-hot bowl of our soup of the day.
12.99